New Products
At Finish Line we are constantly innovating and working on new products. Our product development process is multi-faceted and includes feedback from our sponsored teams, their mechanics and riders. Finish Line's R&D team also solicits input from strategic technology and supply chain partners. And before any product is released, both lab and field testing are used to de-bug and prove-out the efficacy of the product. This is the process that enables Finish Line to consistently develop some of the best bicycle maintenance products in the world.
Some of the newer products that Finish Line is introducing include the following:
Finish Line Tubeless Tire Sealant is a revolution in tubeless sealant technology. Our unique FiberLinkTM technology with KevlarR seals punctures quickly and with confidence. Since there is no liquid latex or ammonia in Finish Line sealant, it is naturally non-toxic, hypoallergenic and safe for carbon fiber rims. Additionally, Finish Line Tubeless Tire Sealant cleans up easily with water – no more scrubbing or scraping cured latex from tires and rims.
Click Here For More Information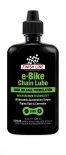 e-Bike Chain Lube and Cleaner - E-Bikes place specific demands on the drivetrain that differentiate them from standard bicycles. To meet these needs and the needs of e-Bike riders, Finish Line has spent the last year developing an e-Bike specific Lubricant and Cleaner. Our e-Bike Chain Lube is a long lasting lubricant formulated with specific additives designed to withstand the high torque and pressures associated with electronic assist drivetrains. While our e-Bike cleaner will safely remove grime before it migrates into your e-Bike's electrical components without the need for water rinsing.
Our e-Bike line will ensure peak performance of your electronic assist bicycle components and prevent premature wear.
Click Here For More Information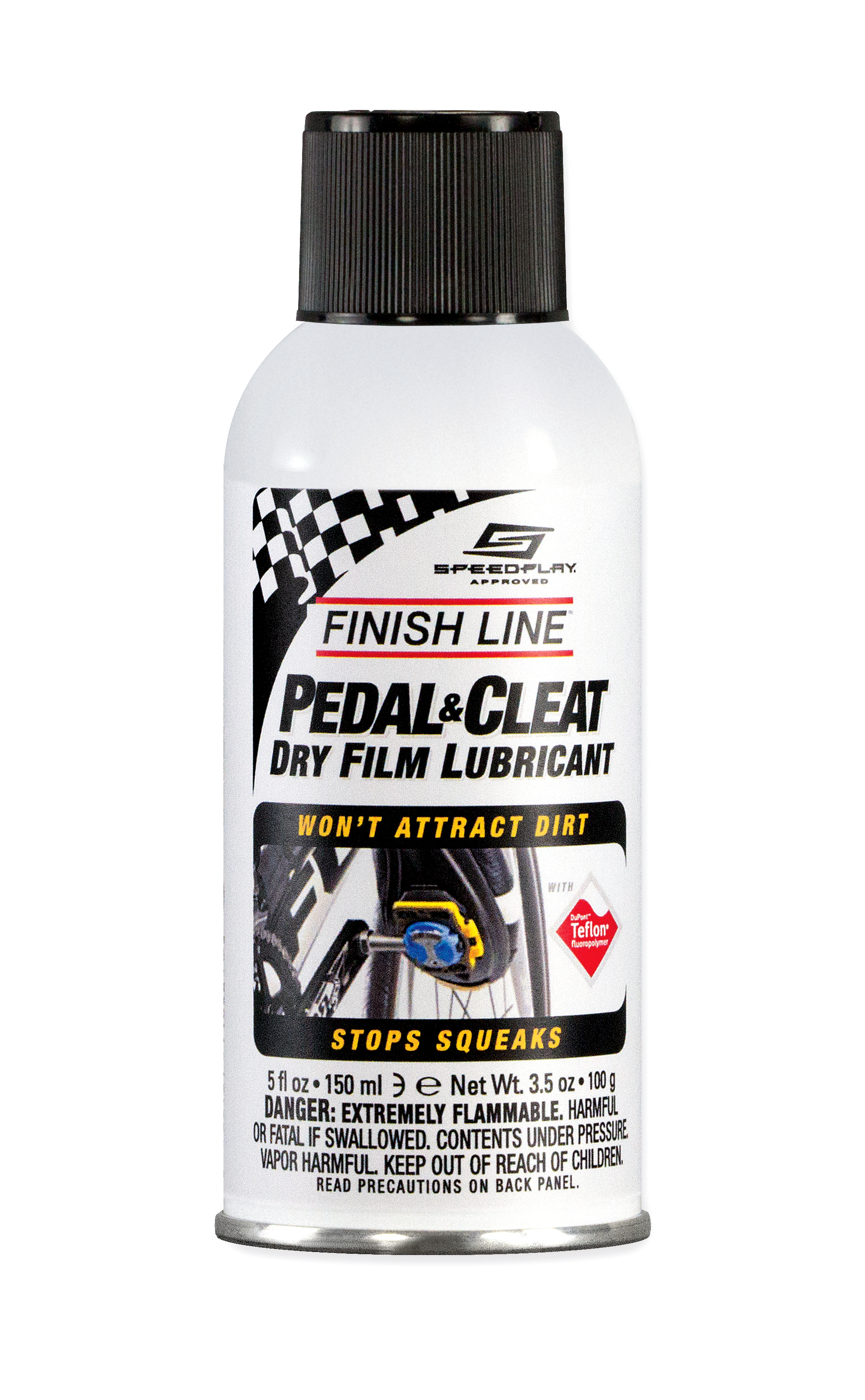 Pedal & Cleat Dry Film Lubricant - Clipless pedals require regular maintenance for optimum performance and long component life. Finish Line Pedal & Cleat Lubricant sprays on to fully and evenly coat all frictional surfaces and is engineered to ensure fast engagements and smooth releases every time. Thanks to a 100% dry-to-the-touch micro-thin coating, there is no oily, greasy film or unwanted stain when you walk around in your shoes.
Pedal & Cleat Lubricant was designed and formulated to maximize the performance of any pedal and cleat system and is so effective that it is factory approved by Speedplay.
Click Here For More Information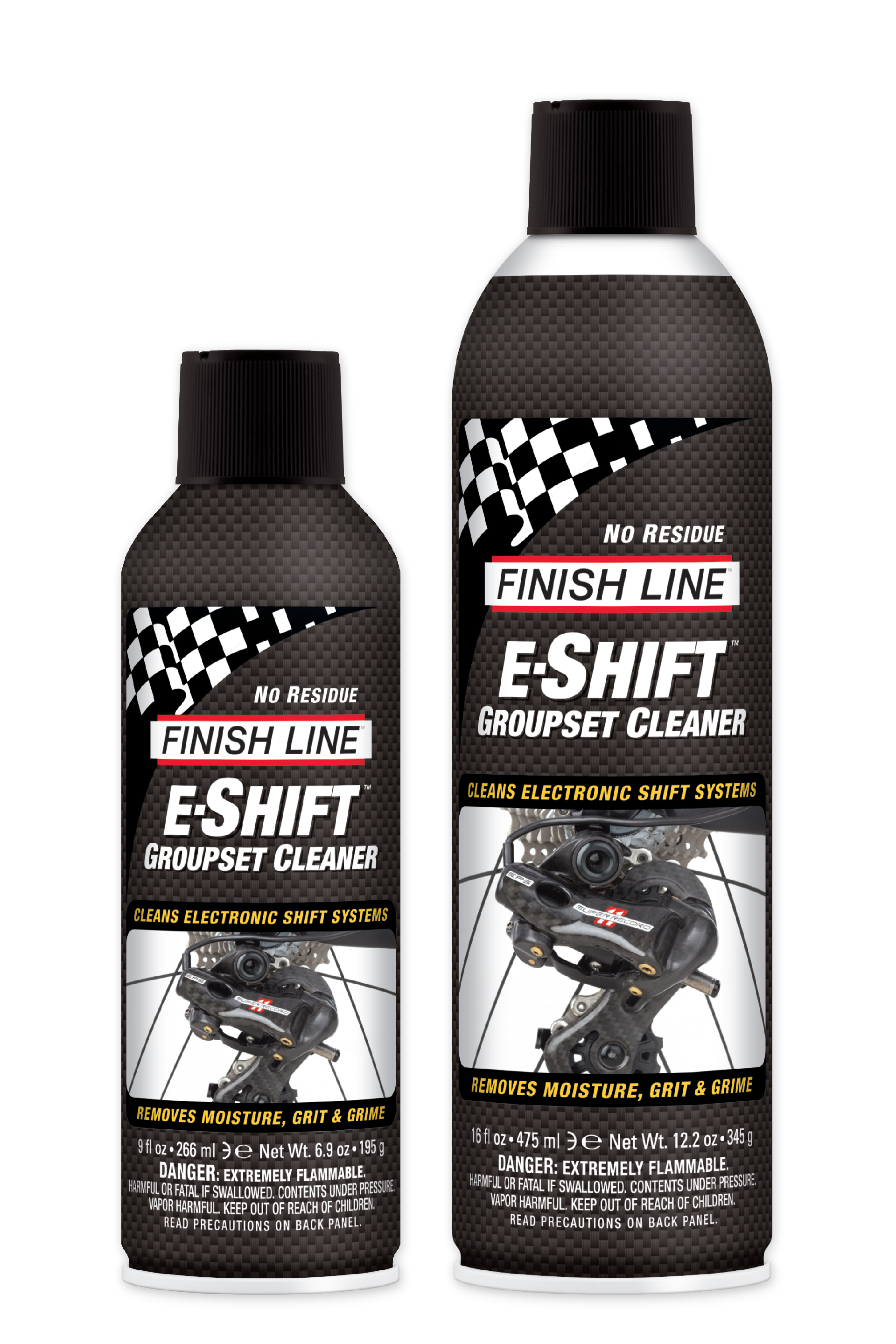 E-Shift Groupset Cleaner - Electronic shifting is the next evolution in bicycle drivetrains and presents unique challenges with regards to maintenance. Due to sensitive components, electronics, and wires, safely cleaning and degreasing components is more important than ever.
Thanks to its unique formulation, E-Shift™ Groupset Cleaner can quickly and safely remove grit, grime, and moisture from any electronic groupset. With E-Shift™ there is no need to worry about damaging wires or derailleurs. Due to its state of the art formulation, E-Shift™ quickly evaporates without leaving a residue behind, which means there is no need for water rinsing. Parts are left completely clean and dry in minutes.
Click Here For More Information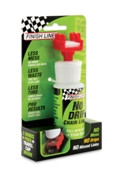 The No Drip Chain Luber™ - The Fast, No Mess Way To Lubricate a Bicycle Chain. Lubricating a chain is an essential, but often dreaded task. It can be time-consuming and often results in lubricant landing on the frame, wheels, braking surfaces, and the ground. Thanks to the No Drip Chain Luber™ every link can now be properly lubricated in seconds, without making a mess or wasting a drop.
Click here for more information and a demo video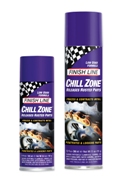 Chill Zone™ - Chill Zone™ is arguably the industry's most advanced rust-busting penetrating lubricant. It simply works like magic! Before giving up on a frozen crank bolt, a rusted derailleur spring, a seized seat post, or discarding your rusted chain, give Chill Zone™ a shot. Bike parts that normally need to be replaced can be reconditioned to ride another day.
Click here for more information and a demo video

Max™ Suspension Spray - Over time fork stanchions can become dry and less responsive. This can result in loss of travel, slow rebound, and cause the fork to feel very stiff over bumps. When this happens, a quick shot of Max™ Suspension Spray will immediately improve your fork's performance.