About Finish Line™

The Beginning…
"Develop premium quality and performance-enhancing bicycle lubricants. Formulate them with ingredients that respect the environment. Market them honestly. Price them fairly."
This was the mission statement upon which Finish Line® was launched and the one that continues to guide Finish Line today. Back in 1988, the availability of technically advanced bicycle lubricants that enhanced the performance of sophisticated multi-geared drivetrains was extremely limited. Household lubricants simply did not address the lubrication requirements that were specific to bicycles and the wide range of conditions in which they were used. In March of 1988 Henry (Hank) Krause, fresh out of the ranks of Mobil Corporation, founded Finish Line Technologies, Inc.
Our First Product: Finish Line® Dry Lube…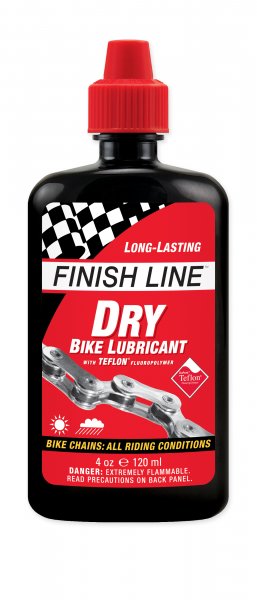 Krause believed in the efficacy of Teflon™ fluoropolymer and its ability to help address the mechanical and lubrication needs of bicycles. Teflon™ fluoropolymer became an important building block for Finish Line's first product. By using Teflon™, special grades of synthetic oils, and a proprietary wax-like additive system, the company was able to create the industry's first dry-style lubricant, aptly named, Finish Line Dry Lube with Teflon™ fluoropolymer. This lubricant arguably changed the way bicycle chains were lubricated. It did not attract and absorb contaminates like traditional wet-style lubricants, so shifting systems worked better and lasted longer. The availability of this new technology coincided with the increasing popularity of mountain bikes, which were hungry for a lubricant that would not attract grit and grime. In short, with this one product, Finish Line® was off to the races!
Growing the Business…
Finish Line® began with a focus on small batch production, product development, and quality control. Soon, building brand identity and expanding the Bicycle Care category became a priority. In 1990 Finish Line recognized that there was international potential for its bicycle lubricants and the company began exporting to Germany and England. Soon, the company began attending European and Asian bike shows and these efforts helped fuel additional global expansion. In recent years, Finish Line has focused on teaching cyclists how to choose and use the Finish Line lubricants, cleaners, and cleaning tools that match up best with their bikes, the conditions they ride in, and their personal commitment to bike maintenance. This focus has resulted in the industry's first interactive lube selector tool and degreaser selector tool.
Current Status…
Finish Line® is now recognized as the world's leading manufacturer of specialty bicycle lubricants and related maintenance products. Finish Line manufactures a wide variety of products for the care and maintenance of bicycles. The company enjoys a leading market position in over 50 countries. Its products are produced in 15 languages. Finish Line products are used by many of the world's leading mountain bike and WorldTour teams. Finish Line continues to invest heavily in R&D initiatives directed towards its core bicycle business. Finish Line believes that the quest to optimize the mechanical functioning and drivetrain efficiency of a bicycle is multi-dimensional, requiring a commitment to research and development, a feedback loop that includes both professional and recreational riders, and a keen sensitivity to health, safety, and environmental concerns.
Thank You...
At Finish Line®, we're on a mission to help bicycles perform better by reducing drivetrain and bearing friction. In doing so, we know that we are helping prevent the premature retirement and disposal of thousands of bikes every year. What a great and rewarding business to be in. The opportunity to be in this business would have never happened without the loyalty, feedback, patience, and passion of the many dealers and cyclists who have given Finish Line a chance (and sometimes a second chance) over the past 25+ years. For this and more, everyone at Finish Line is extremely grateful and we extend a heartfelt "thank you!"
Hank Krause
Founder and President